Dilli Dreams
An aging man living in hardship in the crowded bazaars of Old Delhi remembers his childhood in the countryside.
"Poignant"
-Huffington Post
"A remarkable film... The cinematography is sublime…"
-Bath Film Festival
"Stunning!"
-Aseem Chhabra, Festival Director NYIFF
"Visually poetic"
-CAAM Fest
"Touching"
-Charlotte Harman, bathffblogger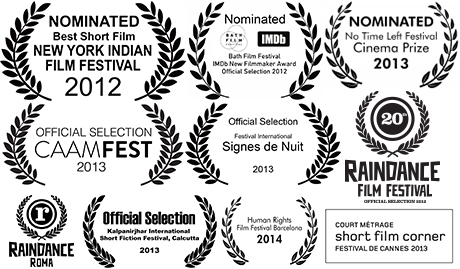 The Way Up
A troubled journalist embarks on a journey to find a legendary jazz trumpet player living as a hermit in the mountains of Wales.
Festival De Cannes Short Film Corner 2014
Official Selection Bangalore International Short Film Festival 2014
Official Selection Kalpanirjhar Short Film Festival, Calcutta, 2014
Official Competition No Time Left Film Festival, Paris 2014
Official Selection Cosmo Fest Tokyo 2015
Official Selection Dingle International Film Festival 2015
Gewinner (Winners)
Seconds before his career-ending run an Olympic athlete remembers a formative experience in his childhood.
Two Lives at University
Two university porters share their view on life.