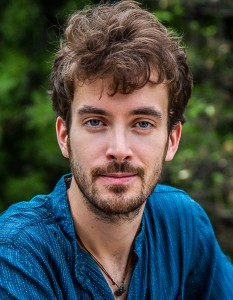 Born in Berlin, Etienne grew up predominantly in India with in-between spells in Germany and Portugal. New Delhi thus formed the backdrop of his first forays into filmmaking and after deliberations about becoming a jazz drummer, he chose to channel his passions into film.
After working at a German television series as a director's trainee, Etienne completed his undergrad in Berlin. With a DAAD scholarship he then successfully studied filmmaking at the University of Bristol, England. During this time, Etienne also visited workshops on writing and directing by industry professionals such as Robert McKee, Syd Field, John Truby, Jacques Audiard and Adoor Gopalakrishnan.
In 2012 Etienne wrote and directed the short film Dilli Dreams (2012), which chronicles the life of an aging laborer living in the streets of Old Delhi. The film was screened and award nominated at numerous international film festivals and reviewed by the Huffington Post as "poignant". Dilli Dreams acquired a theatrical distribution deal and is currently being released in theatres across France. Etienne's short film The Way Up (2014) has also recently been screened at film festivals.
While Etienne still has strong ties to India and the UK, he is currently based in Berlin, where he is developing his first feature film called Tin Can Buffaloes. The screenplay for this adventure drama set in Goa advanced to the 2015 Academy Nicholl Fellowships Quarterfinal Round as one of only 375 out of 7442 entries.
In addition, Etienne is working on a documentary about the jazz band Azul and on another short film set in Delhi. Music continues to influence Etienne and he composes the scores for some of his films.